Download PDF
Richard E. Engler, Ph.D., Presents "New TSCA And Green Chemistry Innovation" At ACS's GC&E Conferenc
On June 18, 2018, Richard E. Engler, Ph.D., Director of Chemistry, Bergeson & Campbell, P.C. (B&C®) and The Acta Group (Acta®), presented "New TSCA and Green Chemistry Innovation" at the American Chemical Society's (ACS) Green Chemistry & Engineering Conference in Portland, Oregon. This presentation covered specific changes to the Toxic Substances Control Act (TSCA) and the impact of those changes for new chemicals, including innovative "green" chemicals. In line with the conference theme, "product innovation using greener chemistries," Dr. Engler outlined key steps to take when preparing to submit a new chemical for review, including the following items that a robust Premanufacture Notice (PMN) should include:
Detailed descriptions of all potential releases and exposures throughout the supply chain, including container and equipment cleaning activities
Identities of analogs that have measured data
All data on physical-chemical properties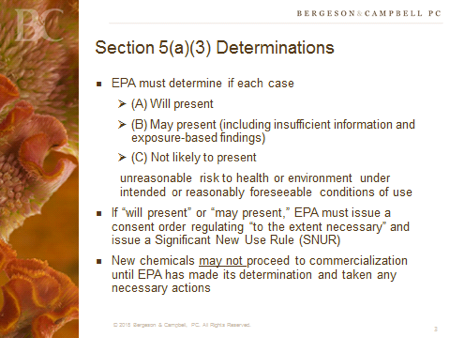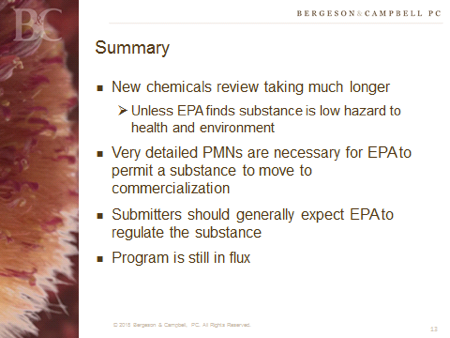 For more information and a full copy of the presentation, contact Richard E. Engler, Ph.D., at rengler@lawbc.com.