Download PDF
B&C Launches TSCA Tutor™ Online, On-Demand Training Courses
Bergeson & Campbell, P.C. (B&C®) is pleased to announce the release of the complete suite of TSCA Tutor™ regulatory training courses online and on-demand at www.TSCAtutor.com. Professionals seeking expert, efficient, essential training can preview and enroll in on-demand classes to complete at their own pace and timing. In addition to the newly released online e-learning courses, B&C's TSCA Tutor™ training platform offers live in-person training at a company's site and customized live webinar training, so companies can mix and match training modules and training approaches to provide the most suitable combination for their work needs.

Toxic Substances Control Act (TSCA) awareness is a critically important element in the 21st century work environment for any business that involves industrial chemicals. The new normal requires awareness of TSCA's application to a company's operations to ensure consistent compliance with TSCA regulations and, importantly, to understand and anticipate how the U.S. Environmental Protection Agency's (EPA) ongoing implementation of new TSCA will impact a company's industrial chemical selection and use processes.

TSCA Tutor™ online training courses include:
Video lessons.
Detailed hand-out materials, including copies of all presentations and relevant course materials from EPA and other sources.
Customizable, yet detailed and ready-to-use Standard Operating Procedures (SOP) for the regulatory topic covered in the session.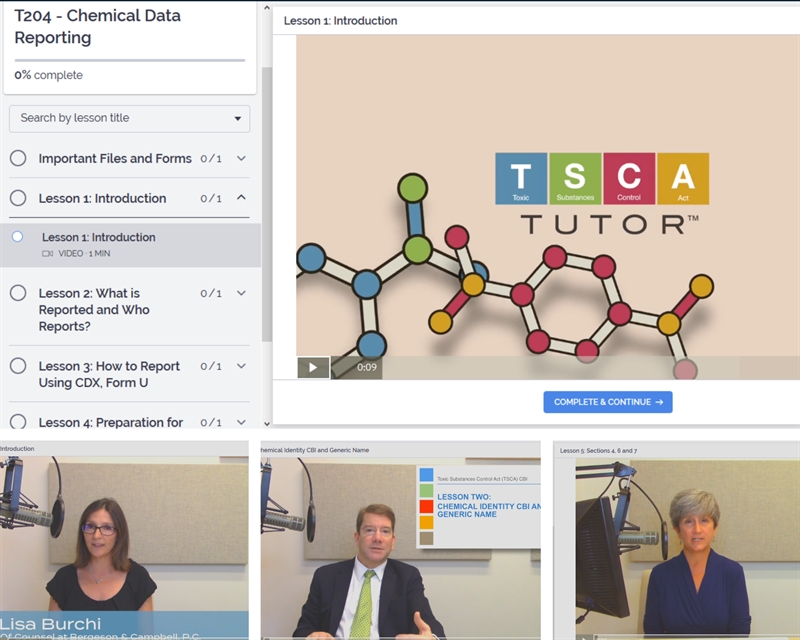 The courses were developed and are presented by members of B&C's renowned TSCA practice group, which includes five former senior EPA officials; an extensive scientific staff, including seven Ph.D.s; and a robust and highly experienced team of lawyers and non-lawyer professionals extremely well versed in all aspects of TSCA law, regulation, policy, compliance, and litigation.

Online courses are offered at $100 for one-hour modules and $200 for 2-hour modules, or $1,400 for the full 12-module training. Courses can be completed at the learner's own pace, and enrollment is valid for one full year. Interested professionals should visit www.TSCAtutor.com to view sample course segments and purchase modules. Volume discounts are available for companies wishing to purchase courses for multiple employees. Companies interested in live in-person or customized live webinar training should contact TSCAtutor@lawbc.com to schedule.

For more information about TSCA Tutor™, contact Heidi Lewis at hlewis@lawbc.com, or read our full course descriptions here.
TSCA Tutor — Curriculum

ONE-HOUR SESSIONS:
An Overview of TSCA (Course number T101)
New TSCA at a Glance (Course number T102)
Import Requirements, TSCA Section 13 (Course number T103)
Export Requirements, TSCA Section 12 (Course number T104)
Confidential Business Information (CBI) (Course number T105)
Reporting and Retention of Information, TSCA Section 8 (Course number T106)
TWO-HOUR SESSIONS:
Inspections and Audits (Course number T201)

Preparing for a TSCA Audit
TSCA Penalties/Overview of Self-Confession Policy

TSCA Section 5, Part 1:  TSCA Chemical Inventory, Exemptions (Course number T202)

TSCA Inventory
Exemptions

TSCA Section 5, Part 2:  New Chemicals/New Use (Course number T203)

New Chemicals/New Use
SNURs

Chemical Data Reporting (CDR) (Course number T204)

CDR Overview
Byproduct Reporting under CDR

Chemical Testing (Regulatory)/Animal Welfare, TSCA Section 4 (Course number T205):

Chemical Testing
How to Prepare/Engage If a Chemical of Interest Is Listed under TSCA Section 4

Prioritization and Risk Evaluation, TSCA Section 6 (Course number T206)

Overview of Section 6 Risk Framework — Prioritization, Evaluation, and Management
How to Prepare/Engage If a Chemical of Interest Is Listed under Section 6
Bergeson & Campbell, P.C. is a Washington, D.C., law firm focusing on conventional, biobased, and nanoscale industrial, agricultural, and specialty chemical product approval and regulation, and associated business issues. B&C represents clients in many businesses, including basic, specialty, and agricultural and antimicrobial chemicals; biotechnology, nanotechnology, and emerging transformative technologies; paints and coatings; plastic products; and chemical manufacturing, formulation, distribution, and consumer product sectors. Visit www.lawbc.com for more information.